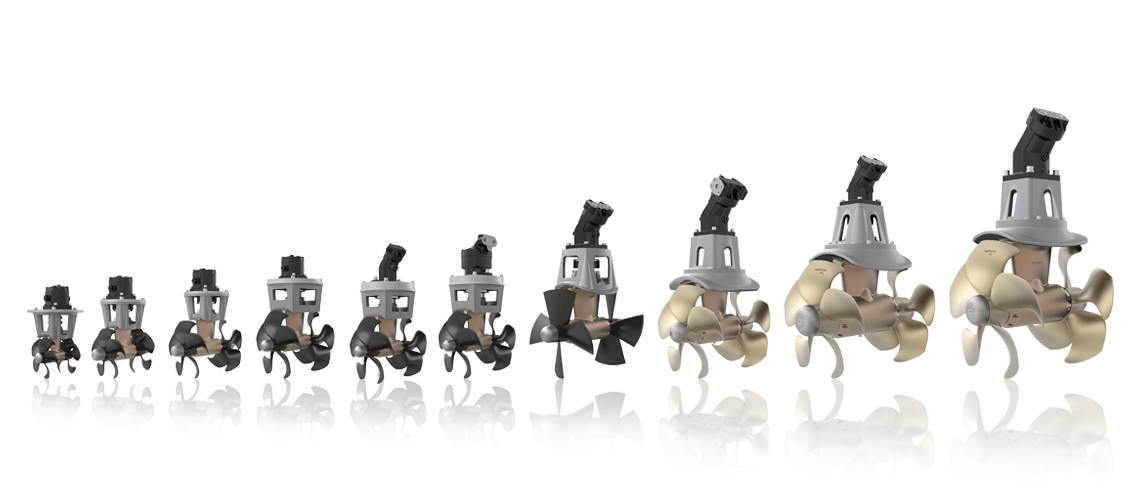 Side-Power Hydraulic Systems
A hydraulic thruster system is the natural choice when extensive thruster usage or long run cycles are required. We design our hydraulic systems with the style needed for pleasure craft and the reliability necessary for commercial use.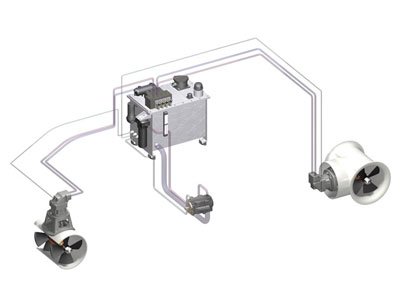 For many vessels, a hydraulic system makes sound economic sense since several functions can run off one central hydraulic source. Once the basic system is in place (pump, reservoir, cooler), adding a function is simply a matter of adding a relatively inexpensive hydraulic valve. This approach is more efficient and cost effective than running each individual function with its own electric motor, solenoid, fuse and battery switch, especially with larger equipment. Additionally, hydraulic valves and motors are better choices in harsh environments such as the forepeak, bilge and transom areas, as well as areas requiring ignition protection. Typical hydraulic applications are thrusters, stabilizers, winches, capstans, cranes, etc.
There are many different ways of designing ­hydraulic systems, and some solutions are better for specific applications than others. Side-Power Hydraulic systems are designed to provide outstanding performance of the core components and flexibility to power multiple additional equipment.
Why Side-Power?
The leading position of Side-Power thrusters is a clear result of focus on the products performance, functionality and reliability.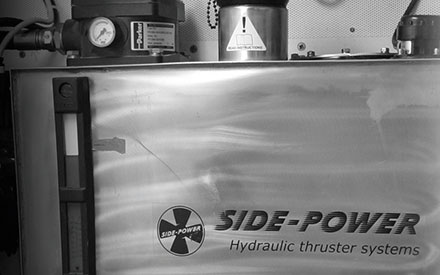 Cooling and filtration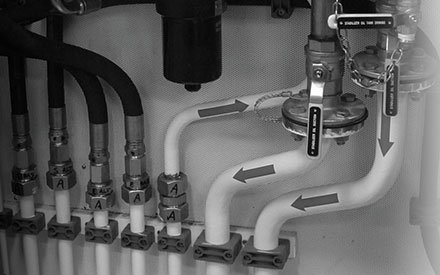 Information and warning system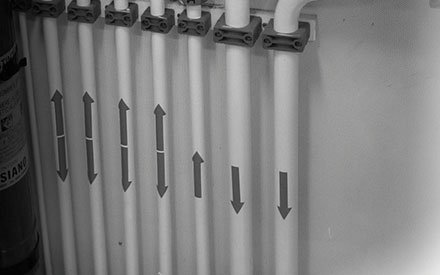 Valve system
A Leading Manufacturer!
For many years Side-Power has been the one brand that others have tried to copy, but through extensive research and development we have remained ahead of the pack. Over the last fifteen years we have evolved into the Commercial and Superyacht sectors with the SP550 thruster, allowing us to gain the necessary experience to satisfy these sectors. One point that makes us different from many of the traditional suppliers found in the Commercial and Superyacht industry is that we develop a high quality product extremely efficiently. This comes from our experience in making thousands of smaller thrusters a year for the production builders around the world. The production markets demand high quality and reliable products with an eye on cost effectiveness. We focus on investing in the development of products with the efficiency of volume in mind. Many of the leading Yacht Builders worldwide use our complete hydraulic systems for models up to 30m (100ft). The quality and performance of these products improves with constant product development. As the size of yachts has increased so has our product offering with the SH1000 and the SH1400 for hydraulic based systems and thrusters for AC based systems with up to 1400kg of thrust.
"Turnkey Systems"
Side-Power hydraulic systems are designed for ultimate reliability, performance and easy installation. For the installer, perhaps the most important feature of any hydraulic system is that they are delivered ready for installation. Side-Power hydraulic systems are manufactured with this in mind and each hydraulic system is tailored specifically to each vessel and its specific needs.
Side-Power hydraulic systems come pre-fitted with all internal hydraulic and electrical components ensuring correct installation and potentially saving hours of work for the installer. Side-Power systems do require the installation of external hydraulic and electrical connections, which can only be done onboard.
Full documentation
Side-Power hydraulic systems use only brand name hydraulic components ensuring reliability and easy worldwide access to spare parts and service.
Safety
Side-Power thrusters include several features to ensure the safety of your vessel and its passengers. These features protect against technical and operator faults.
mechanical protection of drive gear with flex couplers
electronic protection against sudden change of drive direction
protection against accidental operation incorporated in control panels
Performance
Investing in product development and testing is an important reason why Side-Power is the leading thruster brand today. Now larger vessels can benefit from these investments that have resulted in modern, cost effective production of highly efficient and reliable thrusters.
mechanical protection of drive gear with flex couplers
electronic protection against sudden change of drive direction
protection against accidental operation incorporated in control panels
Reliability
The world's leading boatbuilders have used Side-Power for many years because they know they can trust Side-Power equipment to work without problems, year after year.
in-house manufacturing and assembly
engineering assisted by experience
use of superior materials
controlled quality of every supplied part
Worldwide product support
2-year limited warranty
Hydraulic Tank
A thruster will normally be the most demanding consumer among the hydraulic parts onboard, so it is important that the system be correctly built and sized.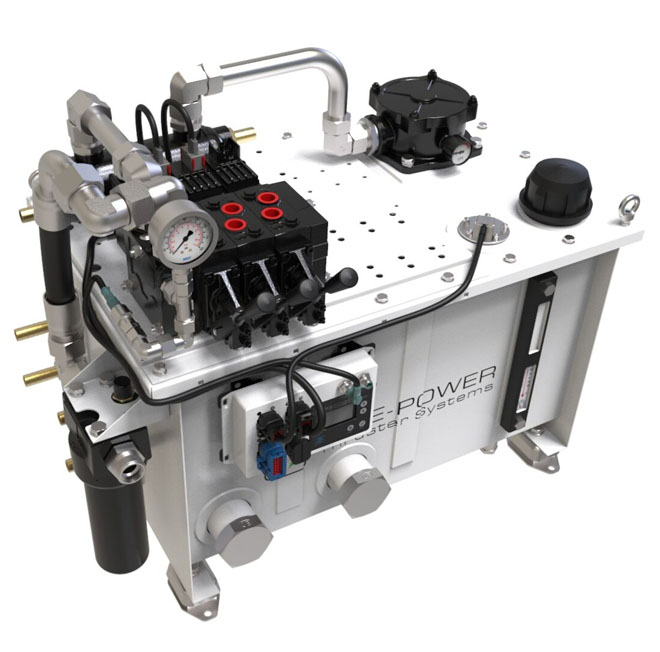 A Side-Power Hydraulic System
Is specifically designed for ultimate flexibility to support any of the other hydraulic parts on board.
It has been designed using the same stringent standards as all other Side-Power parts, focusing on:
Easy & safe installation
Easy maintenance
Side-Power hydraulic systems offer huge labor cost and space savings to the installer since virtually every required component is pre-installed and pre-wired. Side-Power systems require only the external hydraulic and electrical connections (which can only be done onboard), saving time and money for the installers. A Side-Power system is delivered with all necessary drawings, installation manuals, system startup manual, service manuals etc. to ensure an easy and correct installation and a lifetime of reliability and serviceability.
Side-Power Hydraulic Tank
Powder coated stainless steel reservoir
Soft mounting feet to avoid structural carried noise on floor mounted tanks
Internal baffle plate that also helps remove air from the oil
Angled bottom of tank with drain plug at lowest point on floor mounted tanks
All internal hydraulic connections on tank are pre-fitted
All internal electric connections for thrusters pre-wired, ready with extension connectors
Optional temperature controlled water pump for oil cooler
Flexible setup
Cooling and filtration
It is important for the lifetime and reliability of a hydraulic system that the oil stays clean and within accepted temperatures to avoid excessive wear and damage to any of the components in the system. The Side-Power hydraulic system is designed to achieve this by having: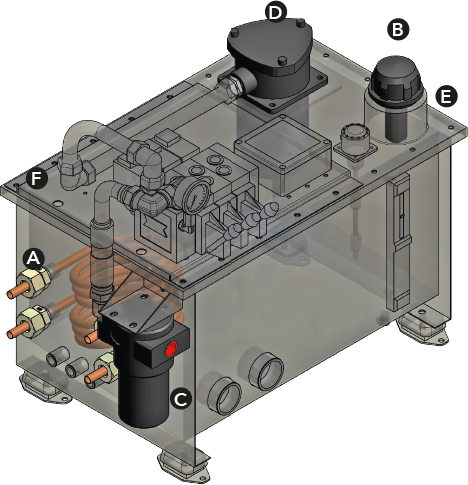 Dual internal
Oil cooler (optional) *
Air filter
In ventilation cap
High pressure
Filter with service indicator
Return filter
With service gauge
Additional oil cooler
for extra cooling requirements
* an optional hydraulic driven water pump for the oil cooler is also available
PVG Control Valve
Safety relief valve on feed protects system against overpressure
Can be built to control of up to seven hydraulic units onboard. Individual pressure and flow adjustments (preset) for all components.
Shock valve on outputs to all components
Hydraulic flow rating and characteristics are selected for best possible match with the individual consumer
Manual activation of each consumer for easy servicing and trouble shooting
Identification of each valve system for reference to factory specifications
Information and warning system
For safety and ease of service there are several sources of information and warnings on the tank.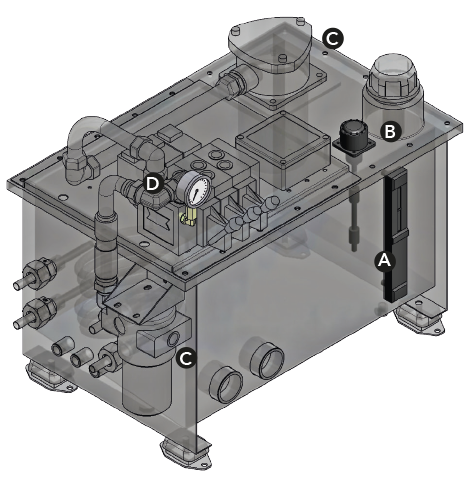 Hydraulic Pump
Side-Power hydraulic thruster systems use exclusively variable displacement piston pumps. They offer a high level of reliability, efficiency and flexibility.
powering a thruster system
A thruster is almost always the most power demanding part of a hydraulic system. That's why the hydraulic system must be dimensioned to the thruster(s). Knowing our thrusters better than anybody, we can design the perfect hydraulic system to match.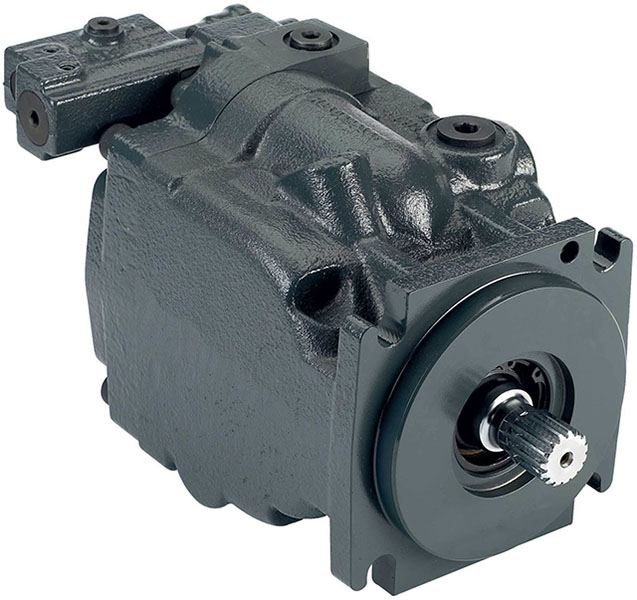 Advantages with load sense system
One of many variable displacement load sense pumps offered by Side-Power.
Reliable and well proven system
Delivers only the flow and pressure that is actually needed at the time
The load sense control of the pump is more reliable than an electric clutch
Low heating and energy waste
High efficiency piston pumps
Low noise in both running and standby mode
Ignition protected for fitting in gas/petrol areas
Normal power sources for hydraulic pump
Main engines / gear box
Generator / auxiliary engines
AC electric motor
How to connect and power hydraulic pumps
The most common way of fitting pumps is by a PTO (Power Take Off).
This is the preferred method if available, because everything is then matched together by standards so that the fitting is safe and reliable. If there is no PTO available, it is normally possible to fit the pump with a bracket and a flexible coupling to the front end of any engine. Some also use belt drives, but we prefer not to do so because of the high torque needed by a thruster system. Another option is to power the hydraulic pump by using an AC electric motor. Below you can see some examples of these installation methods.
PTO Fitting of Pump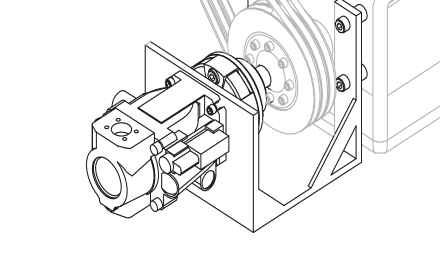 Engine Front-end Fitting of Pump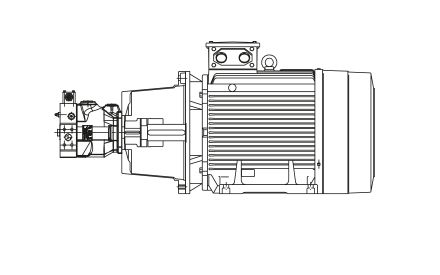 AC Power pack
What is "load sense"?
Load sense means that the pump displacement is controlled by a pressure signal from the hydraulic control valves. The pump will then continuously sense if there is a need for more flow or pressure to any consumer and adjust the displacement accordingly. This means there is no need to rely on electrical activation or to have large volumes of unused oil pumped around the boat constantly.